Image: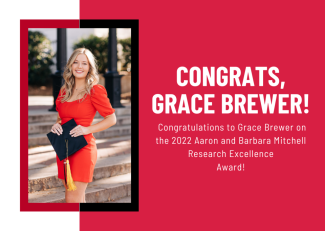 The Microbiology Department would like to congratulate Grace Brewer for being awarded the 2022 Aaron and Barbara Mitchell Research Excellence Award!
Grace's illustrious undergraduate career includes winning the Spring 2022 CURO Research Award, working with Dr. Aaron P. Mitchell, serving as American Society for Microbiology Treasurer (2020-2021) and President (2021-2022), working with UGA Miracle, and being an active member in Delta Gamma.
Congratulations, Grace!